Tandoori Flames

5 months ago
Flaming Great Food
Tandoori Flames West Footscray restaurant, at 583 Barkly Street, is located about 2kms away from the hustle and bustle of busy downtown Footscray central. You might think that Tandoori Flames would suffer in terms of patronage because of this, but certainly, on the night we visited (a Thursday), that didn't seem to be the case. There was a steady takeaway trade, as well as a few groups dining in. On a cool winter night, I saw this as a good sign.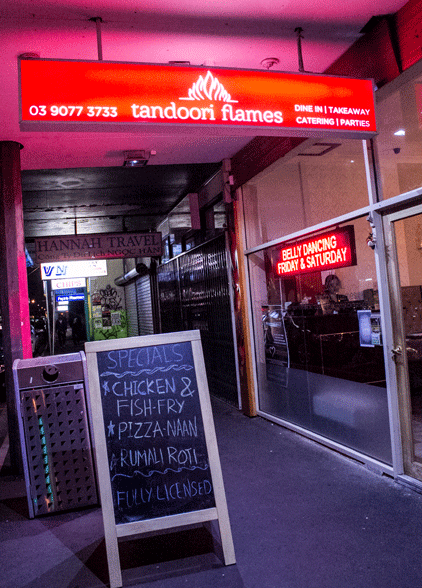 I was impressed with the decor on walking into Tandoori Flames. The restaurant is welcoming. I particularly liked the bar at the back of the restaurant; it's cleverly lit to make it a feature, and it lifts the appearance of what would otherwise be a fairly standard room.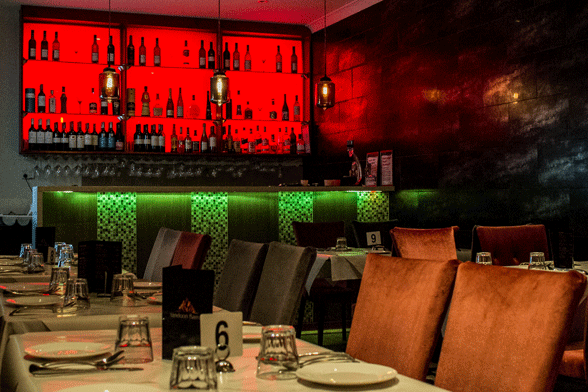 Our waitress was friendly and welcoming, and had a lovely smile. She was quick to provide us with menus and to offer suggestions about popular menu items. She was, however, perhaps a little less used to customers ordering bottles of wine, as the unopened bottle of the wine we ordered (a Fermoy Cabernet Merlot Margaret River (WA) ($28)) along with two wine glasses, was placed on the table, leaving us to open it ourselves (fortunately it was a screw top bottle!). The restaurant is licensed, offering a total of 12 different red and white wine options, along with beer, spirits and cocktails. We did however notice that other diners had elected to 'BYO'.
And so to the food. I think any diner would have to be impressed by how extensive the menu is! As well as the Indian dishes you'd expect, there is also an Indo-Chinese section, giving an even broader choice. We decided to skip entrees and go straight to the main courses. I chose the Lamb Saag (lamb with spinach) ($15.90), Dave, my partner, the Chicken Tikka Butter Masala ('CTBM') (chicken tikka pieces from tandoor then cooked in butter sauce) ($15.50). Accompanying these dishes was naan bread (a plain naan ($2) and Kashmiri naan ($3.90)), rice ($3.50), raita ($3) and the mint and tamarind chutneys ($2 each).
We were asked how hot we wanted our main courses and opted for 'medium'.
I often order Lamb Saag in Indian restaurants, it's a bit of a favourite of mine. Therefore, I feel qualified to pass judgment on Tandoori Flames' version of this dish. And what I can say is that it was delicious! I was actually surprised at how flavoursome it was, and the spicy complexity of the dish; it made other Lamb Saags I'd tasted seem bland in comparison. The 'medium' level of chilli was perfect. It had a 'kick' to it without overwhelming the flavour. The meat was beautifully tender.
Similarly, the CTBM was creamy and luscious with, again, just the right level of spiciness.

If the truth be told, we had eaten enough after filling ourselves up with the main courses and accompaniments. But to do justice to Tandoori Flames' menu, we felt we had to order desserts. I ordered one of the kulfi dishes, Dave the dumplings. When they were brought to our table, we were given another surprise, an extra dessert! This was a different type of kulfi, apparently a house specialty. We both enjoyed the kulfis more than the dumpling, the latter possibly being a bit heavy after all the bread and rice we'd consumed. Plus, it was served cold; somehow, in my mind, dumplings should be hot!

To sum up, Tandoori Flames offers really great food at very reasonable prices in very pleasant surroundings. We're already planning a return visit, and this time will invite some friends to join us. Next time we'll make it a Friday or Saturday night when there is also a belly dancing performance.