Tandoori Flames

5 months ago
The Pre-Wedding Indian Ritual of Henna
Attend an Indian wedding and your eye will certainly be caught by very gorgeous and intricate (almost tattoo-like) bright reddish orange patterns on the palms of the women. These works of art are called mehndi or henna and these are considered to be very auspicious. Usually these patterns have been drawn a day prior to the wedding using henna paste which dries to leave a temporary and deep red pigment on the skin. Henna is applied at a special ceremony called 'mehndi' before the actual wedding day and among the many exotic Indian wedding ceremonies, it has a prominent place. As it is a predominantly women-centric ceremony, it is a bit like the Indian version of the hen night albeit a far more conservative avatar of it.
Henna: an ancient Indian tradition
Henna, as you know, is the fine powder of dried leaves of the henna plant that's botanically known as Lawsonia inermis. The henna plant is a popular hedge shrub in southern and middle-eastern Asia. Its fragrant fresh green leaves when dried, powdered and mixed with water to make a paste, leave a temporarily deep red stain on the skin. Red and orange are considered to be very auspicious colours in this entire region (remember, an Indian bride wears red on her wedding) and hence henna's use is recommended at all auspicious occasions.
Henna's history is lost in the mists of time. Vedas, world's oldest scriptures and part of the Hindu religious tradition, mention henna's auspiciousness and advocate its use. The use of henna patterns on brides' palms too dates back to thousands of years. You can't think of an Indian bride without henna patterns on her hands and feet. In fact, Indian tradition specifies 16 beautification processes (solah singar) for a bride and henna or menhdi is one of them.
Lest you think otherwise, henna is not a 'solely for weddings only' ornamentation. Girls and women can get it done for any happy occasion. Of course, it is a de rigueur at weddings.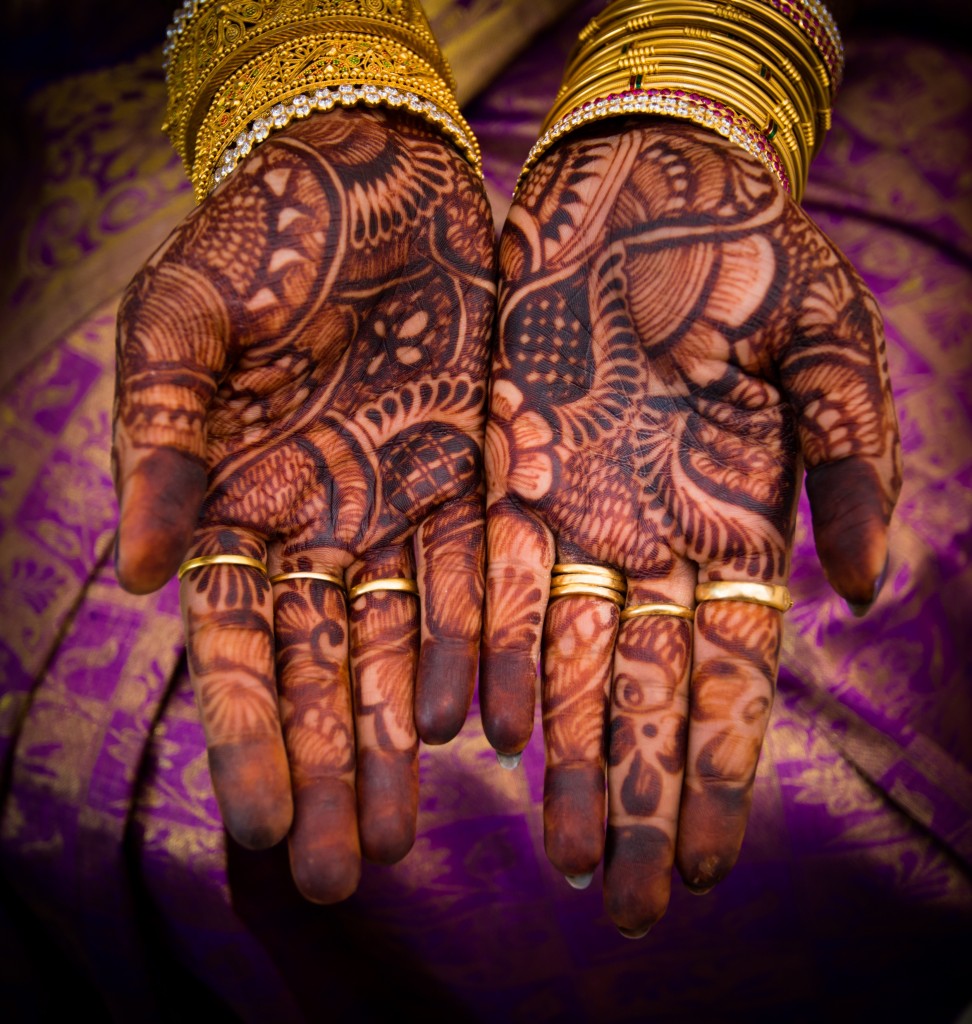 Mehndi as a pre-wedding ceremony
Let's come back to henna's prominent role in pre-wedding rituals. A day before the actual wedding, a 'mehndi' ceremony is hosted by the bride-to-be's family where professional mehndiwallahs (commercial henna artists) are hired and paid very handsomely for their labours. Women sit in front of them with palms out and these artists equipped with henna paste cones (a bit like icing cones) and draw eye-poppingly intricate and jaw-droppingly beautiful patterns. The bride-to-be gets the most detailed and lavish henna work which covers not just her hands and feet but also the forearms and forelegs. As a matter of fact, the bridal henna work often takes hours and is done by the master artist himself or herself.
The mehndi ceremony is usually a small and intimate affair with close relatives and friends of the bride in attendance. Once henna work is done, the ladies have to wait for a few hours' time till the henna paste dries completely. You can often see husbands spoon feeding their wives during this time. There is plenty of laughter and teasing of the bride. Folk songs and Bollywood songs rule the evening and the dance floor becomes a popular haunt of guests ready to shake a leg. As feasting and Indian weddings make a rum pair, a lavish dinner spread is laid for the guests. Easy to pick and pop in the mouth finger foods and mocktails/ cocktails are also served abundantly.
Coming back to henna, once dried it is rubbed off but hands are not washed. Instead some oil is applied and sometimes hands are wrapped in cotton fabric to let the body heat darken the colour. By the next day, the colour darkens so that at the time of the actual wedding, it is at its brightest best. Henna's colour is temporary and usually fades away in a week or two.
Here are two fun facts on bridal henna:
The groom's initials are drawn on the bride's palms but hidden cunningly among the intricate floral and paisley patterns. If the groom can find his initials on his wife's palms on the wedding night, good for him. Otherwise it is believed that he will be dominated by the wife in their marital life!
The darker the henna colour goes, the more is supposed to be the harmony between the groom's mother and the girl!
All in all, the menhdi ceremony is quite a ladies' evening for the girl's family, relatives and friends.
Host your mehndi at Tandoori Flames
We invite you to host your mehndi ceremony at our restaurant for a memorable and fun-filled experience. We not only provide a spacious hall, comfy seating, music and a sumptuous spread, we can also arrange expert henna artists for the authentic Indian mehndi work. All in all, we shall ensure that your pre-wedding mehndi ritual becomes unforgettably enjoyable.
Tandoori Flames 15 Vernon Street, South Kingsville and 583 Barkly Street, West Footscray