Tandoori Flames

5 months ago
Tandoor – The Soul of Indian Cooking
Think Indian food and the first things that floats into mind is piping hot, smoky tandoori kebabs, tikkas and breads that smell heavenly, look gorgeous and simply want to make you dig in with gusto. Actually food cooked in tandoor is integral to north Indian cuisine. Do you know what makes tandoori food so special, and how far back this tradition goes? Let's get to know.
So what's a tandoor and how does it work?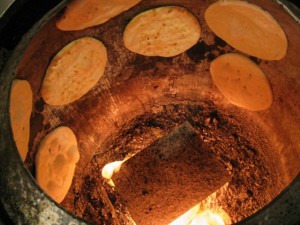 A tandoor is basically a clay oven with a difference. First of all, a traditional Indian tandoor is a cylindrical-ovoid hollow contraption (a bit like a giant bell) with clay inside and layers of insulation on the outside. Its curvy top and has another smaller opening at the bottom of its wall for ventilation. Hot coals or wood chips are burned at the bottom of the tandoor and as its walls and the air in the interiors grow super hot, food kept inside or on top gets cooked. Making a good tandoor is an art in itself and it takes weeks to build and temper a sturdy tandoor.
An interesting thing is that while breads (naans, lachcha parathas, kulchas and rotis) are cooked by slapping flattened dough sheets on tandoor walls, meat is cooked on skewers inserted inside or across the top opening. Cooking breads on the traditional tandoors is not for the faint hearted. It takes years or learning and an inherent skill to bake a perfect naan or tandoori roti. All across north India, one sees roadside eatries called 'dhabas' with their tandoor lit from early mornings to late in the night, cooking food in open air and serving it piping hot to patrons. Believe me, the fragrance of tandoori cooking is amazingly mouth-watering.
Once heated, a tandoor stays hot for a very long time. In old days, women in villages of north India, especially in the province of Punjab, would have at least one common village tandoor where they would all gather in the evening with their kneaded dough 'pedas' (intricately wrapped balls of dough for making tandoori roti, again a skill that takes years to master) and cook their breads one by one. It was called 'sanjha chulha' i.e. shared kitchen, and it was their version of the village square with free exchange of news, views and gossip going on the side.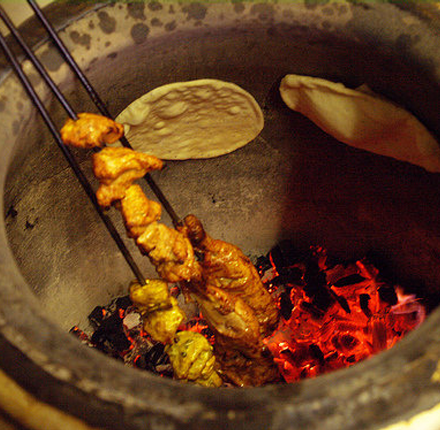 Modern tandoor
While tandoors are by no mean extinct (Tandoori Flames is playing a part keeping the tradition alive), it is no longer convenient or possible for home cooks to have traditional tandoors. A decent substitute are gas or electric tandoors that heat up in a jiffy, need no coal or wood stocks and can be used by the unskilled cook as well. Of course, the fragrance and flavor of real tandoori food is missing but there are tricks and techniques like smoking that can bridge the gap a bit. Mind you, only a bit. The real joys of tandoori food just cannot be replicated in gas or electric fire tandoors.
How old does tandoor go back in time?
The history of tandoor goes back at least 5000 years as it was used in the ancient Indus Valley Civilization of the Indian sub-continent. Apart from India, tandoors have been used all over central, middle-east and southern Asia for millennia. Tandoors can be both fixed and portable. An interesting story goes that the great Mughal Emperor Jahangir loved his tandoori breads so much that he ordered his kitchen staff to create portable tandoors that could be carried along on campaigns.
Actually at Tandoori Flames, we follow in Emperor Jahangir's footsteps for your benefit. We keep small portable and genuinely charcoal fired Indian tandoors which we use for our Outdoor catering. We take our tandoor to your venue regardless of what event you want to host, whether it's house warming, Christmas Celebration or birthday or wedding and serve straight from tandoor piping hot breads, tikkas and kebabs, in our signature best quality and authentic taste whether in-house or outdoors.
Tandoor & Tandoori Flames
We chose to name our restaurant Tandoori Flames as it so captures the soul, the aroma and the flavour of Indian cuisine and hospitality. At both our restaurants, we have authentic Indian charcoal fired tandoors (where temperature goes as high as 450 degrees Celsius and does deliver the really awesome tandoori flavour) to bring you the same authentic taste that has made tandoori Indian food so famous across the globe.
Our tandoor is lit and ready to bring you the best of Indian food. Do book a table and drop in.
Visit Tandoori Flames @ West Footscray Restaurant, 583 Barkly Street or South Kingsville Restaurant, 15 Vernon Street