Tandoori Flames

5 months ago
Veg Spring Roll
Veg Spring roll is a popular Asian snack often served as an appetiser. A mixture of crunchy vegetables and spices are rolled into a frozen sheet or homemade wrapper. It is then deep fried and served piping hot with schezwan sauce.
Ingredients
3/4 cup of shredded cabbage
4-5 spring finely chopped spring onion
1/2 cup shredded carrot
1/2 finely cut beans
1/2 cup finely sliced bell pepper (assorted bell pepper is optional)
3-4 cloves of minced garlic
2 teaspoons soy sauce
1 teaspoons white vinegar
1-inch grated ginger
1 teaspoon black pepper powder
2 tablespoon all-purpose flour
1/4 cup of cooked noodles (optional)
Salt to taste
Oil for frying
10-15 wrappers or frozen sheets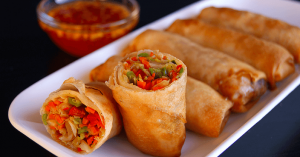 Recipe
Heat 2 teaspoons oil in a pan. Add finely chopped spring onion.
Saute the spring onion for a while. Add minced garlic and ginger. Stir the mixture till it turns light brown.
Add all the vegetables (cabbage, carrots, beans and bell peppers) in the pan. Stir fry it on high flame for 3-4 minutes. You can also add cooked noodles to the mixture.

Please note: Don't overcook the vegetables, since it may lose its crunchiness.
Once the vegetables are cooked, add salt, black pepper powder, soy sauce and vinegar to the vegetable mixture.

Please note: Be careful while adding salt, since soy sauce already contains salt.
Mix everything well and cook it for a couple of minutes on medium flame. Transfer the mixture to another vessel. Keep it aside and let it cool.
Now mix 2 tablespoons of all-purpose flour in 2 tablespoons of water to prepare a slurry.
Take spring roll wrapper and spread it on an even surface. Wrappers might get stick with each other, pull gently to separate them.
Take a spoon full of the vegetable filling. Place it diagonally at one corner of the wrapper.
Roll the wrapper gently, but tightly from the end till you reach mid-way
Spread the slurry on the edges. Now, gently fold one end of the wrapper and bring it in the centre.
Apply slurry to the other side of the wrapper, if needed and bring it in the centre.
Cover the spring rolls with a slightly damp cloth, so they don't get dry.
Heat the oil in a frying pan. Deep fry the spring rolls at medium flame, till they turn brown. Use a paper towel to absorbs excess oil.
Serve piping hot spring rolls with schezwan sauce or tomato ketchup.